Auto-hide Windows 10 Taskbar
After the release of Windows 10, users are finding that they are forced to look at a completely unnecessary Taskbar when in tablet mode. We have developed a simple application to allow users to choose to auto-hide the Taskbar in tablet mode and/or desktop mode. Regain control of your Windows 10 tablet mode experience by hiding that annoying Taskbar today.
How to Hide the Taskbar in Windows 10 Tablet Mode
Install and launch the app! Enter your email and License key if you have made the purchase, or simply click Activate if you've downloaded a free trial.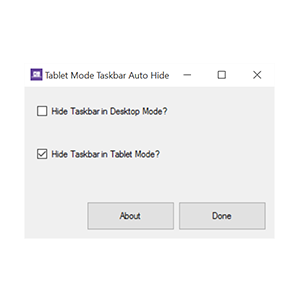 The app will live in your system tray for you to easily toggle the Auto-Hide feature on/off.